Sports Coaching Solutions Limited is delighted to offer high calibre coaches with extensive experience, both coaching and playing. We can arrange tailor-made programmes to suit an individual's needs for one-2-one sessions to large groups.
Director – Mandie Godliman
Mandie founded Sport Coaching Solutions in 2007 on the back of 30 years experience of working within the Sports and Leisure industry in the United Kingdom and New Zealand.  Mandie believes coaching is all about identifying the talent every person has, and helping them to achieve their goals. She has the England Cricket Board and the New Zealand Cricket Level 3 qualifications.
She has extensive experience in many aspects of coaching, from age 5 to adults. She currently coaches various School, Club and Representative Cricket and Hockey teams. She played for the Canterbury Magicians as Wicket Keeper and 1-day Opening Batter. She held a record for most runs in a State Season averaging 62 in 2006. Mandie played for England from 2001 to 2003 as the No.1 wicket keeper.
Cricket has always been her passion, and she has also played top level hockey in the English premier league. In 2008 she undertook New Zealand Hockey Level 1 & 2 coaching awards. Mandie has qualifications in coaching many other sports, including archery, soccer, basketball, badminton, athletics, and other outdoor pursuits. More recently she has also become a fulltime Firefighter here in Christchurch.
Christchurch Coach Manager – Richard Lough
After completing a Diploma in Parks & Recreation Management at Lincoln University Richard pursued a career in Supermarket Management.
His coaching experience includes 10 years with Lincoln University Rugby Club coaching teams from U21 to Division1 Metro.
A halfback & opening batsman by trade, his return to cricket has been guided through people he's met & learnt from last year as part of the Coaching Solutions team. His passion is to find ways that allows every player to train & play at their highest level. He has been with Coaching Solutions since
Queenstown Manager – Emma Campbell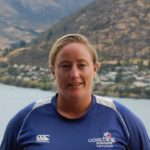 Emma Campbell established Coaching Solutions Queenstown in 2013 to take this successful company and promote it to a new region. Emma has an extensive background in a various sports. She has 20 years experience working for top sporting organisations and clubs in the United Kingdom, Netherlands, China and New Zealand.